Ordering information
Orders placed through the web shop must be paid for by credit card or PayPal. The checkout of our website is SSL secured, making it virtually impossible for third parties to intercept communication (e.g. credit card information, address information etc.).
Bank account information (BIC, IBAN, etc.) available upon request. However, this information is also quoted at the bottom of our invoices. 
The prices of all our products are quoted in Euros (€) and are exclusive of value-added tax (VAT ). VAT is applicable only for European Union Residents, and therefore depends on your billing address, will be calculated automatically at checkout. We are obliged to charge value-added tax (VAT ) for European Union residents without a VAT number (9% books, 21% DVDs/CD-ROMs, 15% for products consisting book and DVD/CD-ROM). Please provide your VAT number when ordering and kindly remember that we cannot change an invoice once it has been issued.
Please note, VAT is not applicable for residents outside the European Union!
An administration fee of € 10.00 may be added, if we are unable to charge your credit card due to insufficient/invalid information provided, or due to insufficient credit. All prices are subject to change without prior notice, however, any such changes will be swiftly included in our website catalogue.
Wholesalers (e.g. booksellers) receive a standard trade discount of 20%. Contact us at info@kuglerpublications.com to have this activated in our website shopping system
After submission of your order, we will automatically confirm your order by e-mail. Please contact us if no confirmation is received.
With your order, you will receive an invoice, that specifies the products ordered, the price paid, etc., and, when applicable, the amount of VAT charged.
We do not fulfill orders on a see safe basis. However, please contact us immediately after receipt should there be anything wrong with the content and we will replace those items as soon as possible. Returns can be made simply by putting the book(s) back in the original packaging, and writing return to sender on the parcel. Please, always contact us in advance, before returning anything!
E-mail offers and other special discounts will require you to quote a discount code. Please make sure you have entered the appropriate discount code in the Coupon box at checkout. Discount codes can also be quoted anywhere on our printed order forms. Unless otherwise indicated, discount offers are intended for private individuals (e-mail), and are only valid when ordered directly from Kugler Publications.
Shipping information
Our shipping partners are SkyNet, PostNL and Parcel International. Special courier services (e.g. UPS, Fedex, DHL, TNT etc.) available upon request, please contact us at info@kuglerpublications.com for more information.
Regular mail is not equipped with a tracking system. Kugler Publications can not be held responsible for any delay caused by inadequate shipping.
Prices of shipping and handling depend on destination, shipping method and total package weight.
In figure 1 the estimated delivery time is given, based on day of the week. Kugler Publications cannot be held responsible for any delay in delivery.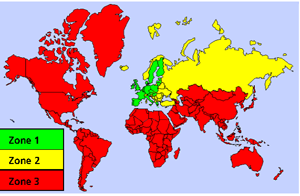 Figure 1: Delivery time
Zone
Economy
Priority
 
1: Europe – EU
4-7 days
2-4 days
2: Rest of Europe
4-8 days
2-5 days
3: Rest of world
7-25 days
4-10 days