Current Clinical Evidence in Ophthalmology
€50,00 excl. VAT
Description
Do you always have the latest evidence based medicine at your fingertips?
The book is accompanied by the website www.evidence-ophthalmology.com which contains all the trials featured in the book and will be updated with data as it becomes available. The website also provides opportunities for active discussions through comment sections for each trial.
Complimentary access to the website is provided when purchasing the book.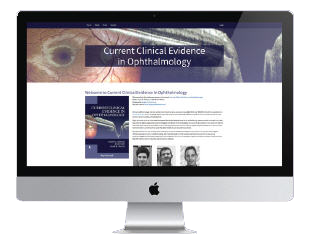 'Current Clinical Evidence in Ophthalmology' summarizes 77 important landmark trials in ophthalmology. Written in a concise and logical format, the book is designed to be both an aide-memoire for the busy clinician and a textbook for ophthalmology trainees sitting specialist examinations. Users will find this book with accompanying website to be a valuable resource in an easily accessible and portable format.
Important studies have been featured on topics including:
Age-related macular degeneration
Amblyopia
Angle closure glaucoma
Cataract surgery
Diabetic retinopathy and maculopathy
Herpetic eye disease
Idiopathic intracranial hypertension
Keratoconus
Ocular hypertension
Optic neuritis
Primary open angle glaucoma
Retinopathy of prematurity
 Retinal vein occlusion
Vitreomacular traction
and others
Clinical ophthalmology, like many other branches of science, is advancing rapidly. With over 230,000 clinical trials registered on
ClinicalTrials.gov
and more being added every year it becomes increasingly difficult to keep abreast of developments that are relevant to our everyday clinical practice.
Major advances such as intravitreal treatments for retinal diseases have led to revolutionary improvements in patient outcomes. Our patients rightly expect that ophthalmologists will deliver the best available care according to solid clinical evidence. Patients also have more access to information and increasingly want to discuss the evidence supporting clinical decisions. Never before has there been such pressure to apply the latest results to our daily clinical practice.
With these ideas in mind, we have tried to identify and summarise the key clinical trials that have made the most tangible difference to patient care in ophthalmology. We hope this book will offer a useful portable resource for the practising ophthalmologist and for those preparing for examinations. Our aim is to provide a cogent and useful summary of the evidence that will improve communication and care for our patients.
Jesse Gale, Keith R. Martin and Harry Roberts
Introduction
Preface
About the authors
List of Abbreviation
Section 1: Anterior Segment
Herpetic Eye Disease Study – 1 (HEDS – 1)
Herpetic Eye Disease Study – 2 (HEDS – 2)
Endophthalmitis Vitrectomy Study (EVS)
European Society for Cataract and Refractive Surgeons (ESCRS Study)
Collaborative Longitudinal Evaluation of Keratoconus (CLEK)
Corneal collagen cross-linking in progressive keratoconus
Section 2: Glaucoma
Ocular Hypertension Treatment Study (OHTS)
European Glaucoma Prevention Study (EGPS)
Early Manifest Glaucoma Trial (EMGT)
United Kingdom Glaucoma Treatment Study (UKGTS)
Advanced Glaucoma Intervention Study (AGIS)
Collaborative Initial Glaucoma Treatment Study (CIGTS)
Collaborative Normal-Tension Glaucoma Study (CNTGS)
Low-Tension Glaucoma Treatment Study (LoGTS)
Glaucoma Laser Trial (GLT)
5-Fluorouracil Filtering Surgery Study (FFSS)
Tube Versus Trabeculectomy (TVT) study
Ahmed Baerveldt Comparison (ABC) and Ahmed Versus Baerveldt (AVB) Studies
Effectiveness in Angle-closure Glaucoma of Lens Extraction (EAGLE) Study
Section 3: Retina
Diabetic Control and Complication Trial (DCCT) and Epidemiology of Diabetes Interventions and Complications (EDIC) trial
United Kingdom Prospective Diabetes Study (UKPDS)
Diabetic Retinopathy Study (DRS)
Early Treatment of Diabetic Retinopathy Study (ETDRS)
DRCR.NET Protocol I – Macular Laser Combined with Ranibizumab or Triamcinalone vs. Macular Laser Alone
DRCR.NET Protocol T – Aflibercept, Bevacizumab, or Ranibizumab for Diabetic Macular Edema
DRCR.NET Protocol S – Panretinal Photocoagulation vs. Intravitreal Ranibizumab for Proliferative Diabetic Retinopathy
Fenofibrate Intervention and Event Lowering in Diabetes (FIELD)
Diabetic Retinopathy Vitrectomy Study (DRVS)
Ranibizumab for Diabetic Macular Oedema (RISE & RIDE)
Ranibizumab Monotherapy or Combined with Laser versus Laser Monotherapy for Diabetic Macular Edema (RESTORE)
Intravitreal Aflibercept for Diabetic Macular Edema (DA VINCI)
Intravitreal Aflibercept for Diabetic Macular Edema (VIVID & VISTA)
Bevacizumab or Laser Therapy in the Management of Diabetic Macular Edema (BOLT)
Fluocinolone Acetonide Vitreous Inserts for Diabetic Macular Edema (FAME A & B)
The Age-Related Eye Disease Study (AREDS I)
Lutein, Zeaxanthin and Omega-3 Fatty Acids for Age-Related Macular Degeneration: The Age-Related Eye Disease Study 2 (AREDS-2)
Ranibizumab vs. Verteporfin for Predominantly Classic Choroidal Neovascularisation in Age-Related Macular Degeneration (ANCHOR)
Ranibizumab for Minimally Classic or Occult Neovascular Age-Related Macular Degeneration (MARINA)
Randomised, Double-Masked, Sham-Controlled Trial of Ranibizumab for Neovascular Age-related Macular Degeneration (PIER)
Safety and Efficacy of a Flexible Dosing Regimen of Ranibizumab in Neovascular Age-Related Macular Degeneration (SUSTAIN)
PrONTO Studies: An Optical Coherence Tomography-Guided Variable Dosing Regimen with Intravitreal Ranibizumab (Lucentis) for Neovascular Age-related Macular Degeneration
Efficacy and Safety of Monthly versus Quarterly Ranibizumab Treatment in Neovascular Age-related Macular Degeneration (EXCITE)
SAILOR Study: Safety Assessment of Intravitreal Lucentis for AMD
Ranibizumab vs. Bevacizumab for Neovascular Age-Related Macular Degeneration Inhibition of VEGF in Age-related Neovascularisation (IVAN)
Ranibizumab vs. Bevacizumab for Neovascular Age-related Macular Degeneration Comparison of Age-related macular degeneration Treatments Trial (CATT)
Intravitreal Afliberept (VEGF Trap-Eye) in Wet Age-related Macular Degeneration (VIEW 1&2)
The Central Vein Occlusion Study – CVOS
The Branch Vein Occlusion Study – BVOS
The Standard Care vs. cOrticosteroid for Retinal vEin Occlusion (SCORE) – CRVO
The Standard Care vs. cOrticosteroid for Retinal vEin Occlusion (SCORE) – BRVO
Dexamethasone for the treatment of Macular Edema following Retinal Vein Occlusion (GENEVA)
Ranibizumab for the treatment of Macular Edema after Central Retinal Vein Occlusion Study (CRUISE)
Ranibizumab for the treatment of Macular Edema following Branch Retinal Vein Occlusion (BRAVO)
Intravitreal Aflibercept for Macular Edema following Central Retinal Vein Occlusion (COPERNICUS & GALILEO)
Intravitreal Aflibercept Injection for Macular Edema following Branch Retinal Vein Occlusion (VIBRANT)
Ranibizμmab And Verteporfin Evaluation in Myopic Choroidal Neovascularization (RADIANCE)
Intravitreal Aflibercept in Myopic Choroidal Neovascularization (MYRROR)
Efficacy and Safety of Verteporfin Photodynamic Therapy in Combination with Ranibizumab or Alone Versus Ranibizumab Monotherapy in Patients with Symptomatic Macular Polypoidal Choroidal Vasculopathy (EVEREST)
Microplasmin for Intravitreous Injection – Traction Release without Surgical Treatment (MIVI-TRUST)
Section 4: Neuro-ophthalmology
Optic Neuritis Treatment Trial (ONTT)
Interferon-β1a for Optic Neuritis: The Controlled High-risk subjects Avonex Multiple Sclerosis Prevention Study (CHAMPS)
Interferon-β1a for Optic Neuritis: The Early Treatment of Multiple Sclerosis Study (ETOMS)
Interferon-β1b for Optic Neuritis: Betaferon/Betaseron in Newly Emerging Multiple Sclerosis For Initial Treatment (BENEFIT) trial
International Optic Nerve Trauma Study (IONTS)
Corticosteroid Randomisation After Significant Head injury trial (CRASH)
Idiopathic Intracranial Hypertension Treatment Trial (IIHTT)
Idebenone for Leber Hereditary Optic Neuropathy – the Rescue of Hereditary Optic Disease Outpatient Study (RHODOS)
Idebenone for Leber Hereditary Optic Neuropathy – Carelli retrospective study
North American Symptomatic Carotid Endarterectomy Trial (NASCET)
Section 5: Paediatric Ophthalmology
Cryotherapy for Retinopathy of Prematurity (CRYOROP)
Early Treatment for Retinopathy of Prematurity (ETROP)
Bevacizumab Eliminates the Angiogenic Threat of Retinopathy of Prematurity (BEATROP)
Pediatric Eye Disease Investigators Group Study (PEDIG) –or– Amblyopia Treatment Study (ATS)
Infant Aphakia Treatment Study (IATS)
Atropine for the Treatment of Myopia I (ATOM I)
Atropine for the Treatment of Myopia II (ATOM II)
Index of Codes
Additional information
| | |
| --- | --- |
| Weight | 500 g |
| Dimensions | 27 × 21 cm |
| Authors | |
| ISBN | 9789062992515 |
| Publisher | |
| Publication Year | 2017 (26-4-2017) |